Aftercare of Dental Implants – Prosper, TX
Help Your New Smile Last a Lifetime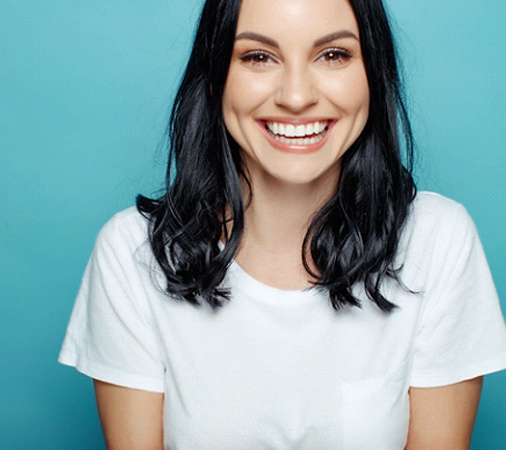 Dental implants' longevity is one of their best features; they have the potential to last for decades. In fact, it isn't uncommon for them to endure throughout a patient's lifetime. However, in order for your new smile to stand the test of time, you must care for it properly. On this page, we offer practical tips and guidelines to help you prevent infection and damage to your beautifully restored teeth.
Make Oral Hygiene a Priority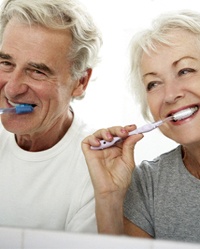 Oral hygiene is perhaps the most important aspect of aftercare of dental implants. Maintaining a clean mouth will minimize your risk of infections that could invade the tissue around your implants and jeopardize their long-term success.
Here are some habits that should be part of your oral hygiene routine:
Gently brush twice a day with a low-abrasive toothpaste, making sure to clean the area along your gumline
Floss once a day
Use an antibacterial mouthwash twice a day
Avoid the use of tobacco
Drink plenty of water
Stick to a nutritious, low-sugar diet
Protect Your Dental Implants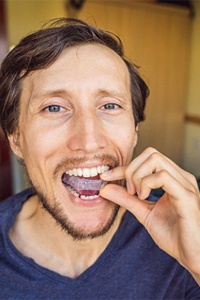 In addition to working to prevent infection, you must also protect your implants from physical trauma. Damage to the implants themselves or to the surrounding tissue could compromise your smile's functionality. You can guard against trauma by:
Wearing a custom mouthguard when you play sports
Wearing a nightguard if you tend to grind or clench your teeth while you are asleep
Not biting down on any extremely hard foods (like ice or hard candies)
Taking reasonable safety measures on a day to day basis in order to avoid trips, falls, and accidents that might damage your mouth
Not using your new teeth to open packages or trim your fingernails
Schedule Regular Recall Visits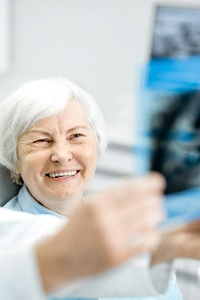 Even if you have replaced all of your teeth with dental implants, it is important that you continue to visit your dentist as often as they recommend. At these appointments, your dentist or hygienist will thoroughly clean your mouth. They may also remove your prosthetic teeth and clean your implant abutments. They'll thoroughly check for any early signs of infection or trauma, and they'll answer any questions you have about caring for your implants and the prosthetic teeth they support. If their exam uncovers any cause for concern, they'll design a treatment plan to get your smile's health back on track.
Caring for dental implants is easy! Applying the above guidelines will help your restored teeth to serve you well for many years.