Benefits of Dental Implants – Prosper, TX
Superior Treatment That Stands Above the Rest
You've read the reviews. You've listened intently as your dentist explained the various tooth replacement options. You've researched and looked at numerous before and after photos, but do you know the real benefits of dental implants? At Texas Dental Surgery, our team is here to help you make sure you know how and why this superior treatment stands above the rest of the competition. We invite you to review the following information, all of which we hope will help solidify your decision to choose dental implants. If you have additional questions or wish to learn more, contact our office today to schedule an appointment.
Traditional Tooth Replacement Solutions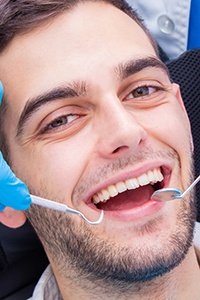 It's easier to consider a more affordable option like a fixed bridge or traditional dentures, but do you know how these are placed and what you can expect when receiving one of these tooth replacement solutions? Let's find out:
Fixed Bridge
When having a fixed bridge put into place, your dentist will use healthy teeth on either side of your gap to serve as anchors for your artificial prosthetic. These teeth will need to be shaved down and "prepped" to ensure the bridge comfortable fits into place. Once impressions are taken and lab technicians create your restoration, it will be placed over your natural teeth and cemented into place.
Traditional Dentures
Traditional dentures offer the look of a fully restored smile thanks to a gum-colored, acrylic base. The natural suction of your mouth will hold it in place unless you are receiving a partial denture, which then uses metal clasps or clips that attach to your natural teeth. These are removable fixtures that require daily cleaning and soaking to remain in optimal condition, but they do require frequent relining, adjusting, and replacing over time.
Benefits of Dental Implants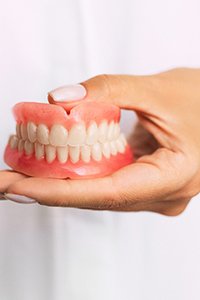 Now that you know more about the alternative options, why not take a closer look at the benefits you can receive with dental implants?
Improved oral health: Only with dental implants will you be able to truly attain better oral health. Because the implants are surgically implanted into your jawbone, they continue to stimulate it and prevent facial changes or sagging as well as additional bone and tooth loss.
Enhanced appearance: Dental implants are natural-looking and feel just like regular teeth. This makes for a comfortable and seamless fit that creates a beautiful aesthetic.
Boosted confidence: When you look good, you feel even better, which is why dental implants can boost your confidence and help you to embrace new opportunities.
Minimal maintenance: There are no special products or appliances you need to buy to keep your implants looking and feeling their best. Simply maintaining a good oral hygiene routine and seeing your dentist every six months for regular checkups and cleanings is all you need to do.
No chance of decay: That's right! Your dental implants cannot decay, but that doesn't mean your natural, healthy teeth cannot, so you will need to make sure you're regularly brushing, flossing, and rinsing to avoid any additional problems occurring.
Longevity: Dental implants are designed to last decades, if not a lifetime. While the restoration will likely need to be replaced over time, the implant itself can remain in place and untouched for the rest of your life (with proper maintenance and care).