High in Quality & Comfort
Welcome to
Texas Dental Surgery
Patients in need of advanced surgical care to improve their oral health and overall smile can rest easier here in Prosper, TX.
Our multi-specialty dental office is focused on providing attentive, compassionate care with the latest technologies and techniques in the field. We're always happy to welcome in new arrivals from all over North Texas!
Meet Your Doctors
A Winning Team
that Gets Results
As Board-Certified specialist Texas Dental Surgery offers quality care in a caring environment. We have a strong commitment to patient care.
Their collaborative approach allows patients to access advanced oral surgery and important periodontal care in one convenient location – no tedious traveling! They also have a passion for customer service that always goes the extra mile, prioritizing clear communication, cutting-edge technology, and truly personalized care.
Meet Your Doctor's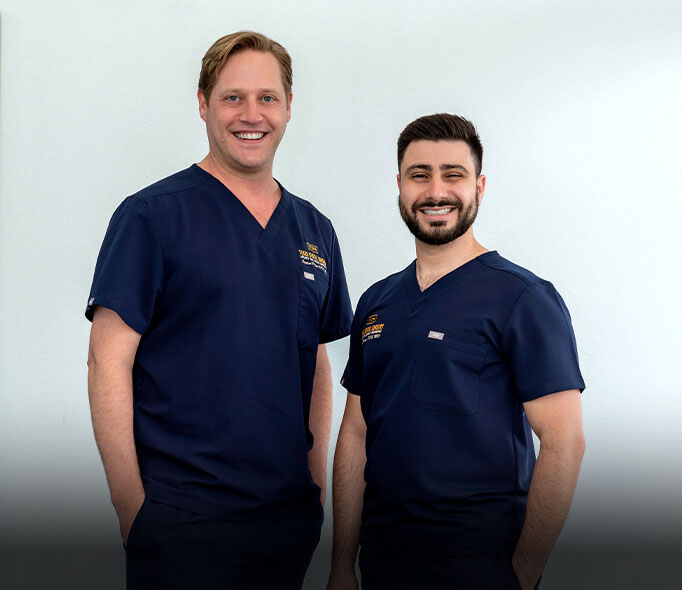 5-Star Dental Patient Reviews
Top-Rated on Google

"I explained to the very kind lady at the front desk that I was really nervous about my appointment. It was immediately apparent that my concern was important to them. When I was greeted by Dr. Stewart, and to each one of his staff, my concerns were asked about and responded to in a professional and gentle manner. In my subsequent visits, I realized that they treat every one of their patients in the same manner. Dr. Stewart and his staff completed my dental work to a level higher than I had anticipated. They are a blessing to me. I thank them for their kindness and expertise."
Joseph B., Aubrey, TX

"Did my research and found these dental surgeons to be the best in the Prosper area. The brand new office, an extension of Dallas office. Dr. John-Michael Stewart was exceptional to work with on my dental implant surgery. Very personable, educational, and patient. The work he did was excellent, really knows his stuff in his field. Lori, the office manager is a pleasure to work with. They will work with you, your insurance, and your other dentist. Highly recommend."
Roy V., Prosper, TX

"Wow what can I say… it was a long time coming. Due to fear, I had neglected seeing a dentist. After 30 years, time took its toll. I love how Dr. Walker has such a great staff, and the facility is very state-of-the-art. I am soooooo happy I did this… plus, my teeth are pearly white. I haven't seen that in ages. Thank you, Dr. Walker, for showing me that going to the dentist is really not bad at all. #Donotfearthedentist"
F. L., Celina, TX
Featured Dental Surgery Services
Sophisticated Solutions
for Complex Problems
Oral surgery can have lasting positive impacts on a person's life, helping them escape pain, regain a confident smile, and leave serious damage and infections safely in the past.
At Texas Dental Surgery, we're proud to offer an extensive menu of advanced dental services, so patients can find the options that best fit their needs. Each treatment plan is comprehensively personalized!
Dental Insurance
•

Affordable Financing

Lori is Here to Help

Paying for important dental care shouldn't have to be a stressful or overcomplicated experience.

Our knowledgeable dental office manager, Lori, is here to make this process simpler than ever! Texas Dental Surgery is proudly in-network with many major dental insurance plans, and we will go out of our way to help you maximize your available benefits. No insurance? That isn't a problem either. Flexible payment plans with little to NO interest can be arranged as well upon request.

Ask Lori A Question Explore Financial Possibilities