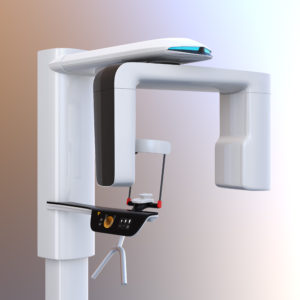 Technology has advanced in leaps and bounds over the past few decades, including in dental offices. For example, new state-of-the-art X-ray technology allows for more precise and predictable implant treatment than ever before! Does your dentist use a Cone Beam CT scanner to place dental implants? If you are considering replacing your missing teeth with implants, you may want to check with your dentist before starting treatment. Keep reading to learn more about how Cone Beam scanning technology enhances the dental implant process.
What Is a Cone Beam Scanner?
A Cone Beam CT scanner is an advanced X-ray machine that can provide your dentist with a more detailed look inside your mouth than traditional or digital X-rays. Instead of just revealing a 2D image of your teeth, a Cone Beam CT scanner can generate a detailed three-dimensional rendering of your teeth, jaw, skull, sinuses, and facial nerves.
The scanner works by slowly moving a cone-shaped X-ray beam around your head. In a matter of just a few seconds, the X-ray beam captures a high volume of precise images of your oral structures. Advanced software then combines these images into one single 3-D image.
Common Uses for Cone Beam Scanners
An experienced dentist can use Cone Beam CT scanning technology in a variety of ways, including:
Accurately placing dental implants
Planning for root canal therapy
Prepping for tooth extractions
Diagnosing temporomandibular joint disorder (TMJ)
Planning reconstructive surgery
Locating pain in the neck, mouth, and jaw areas
How Does a Cone Beam Scanner Help with Dental Implants?
Successful dental implant treatment relies on placing implants in strong sections of the jawbone. Without adequate bone density, width, and height, dental implants are more likely to fail.
Cone Beam CT scanning technology gives your dentist valuable information to create a personalized implant treatment plan. Thanks to the detailed images of your teeth, jaw, and mouth, your dentist can confidently place your implants in the ideal locations.
Benefits of Dental Implants
Dental implants are the only tooth replacement solution that rebuilds teeth from the roots up. Some of the many benefits of dental implants include:
Strong Support – Dental implants provide nearly the same chewing power as natural teeth.
Natural Appearance – Dental implants are custom-designed to blend in with surrounding teeth.
Preserve Healthy Teeth – Dental implants are anchored in the jawbone, so they do not rely on nearby healthy teeth to remain in place.
Long-Lasting Results – With proper care, dental implants can easily last for decades!
Are you searching for a reliable, long-term way to restore your smile? Ask your dentist if they use a Cone Beam CT scanner to create customized dental implant treatment plans.
About the Author
Dr. John-Michael Stewart is dedicated to helping rebuild patients' smiles with state-of-the-art dental implants. A Fellow of the International Team of Implantology, he utilizes a Cone Beam CT scanner to create personalized implant treatment plans at Texas Dental Surgery. To learn more about the benefits of dental implants, visit the Texas Dental Surgery website or call 469-296-8680.