Gum Recontouring – Prosper, TX
Creating the Perfect Frame for Your Teeth
Are you unhappy with your smile? You don't have to live that way forever. Whether you want to reduce excess gum tissue or add extra gum tissue, our team at Texas Dental Surgery for Periodontal Services is prepared to help you achieve your dream look. Gum recontouring can give you a brighter and more balanced smile. To learn more about gum recontouring and how you can benefit from it, continue reading or give our office a call today!
What Is Gum Recontouring?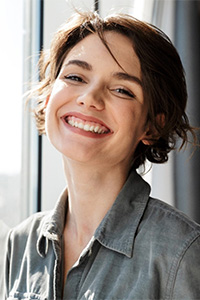 Gum recontouring is a process in which your dentist reshapes the patient's gums. Some patients may want to reduce excess gum tissue to make their pearly whites appear longer. Meanwhile, other people wish to add extra gum tissue to provide more coverage and reduce the amount of exposed enamel. Using a combination of these techniques, your dentist can make uneven gums look more symmetrical.
Benefits of Gum Recontouring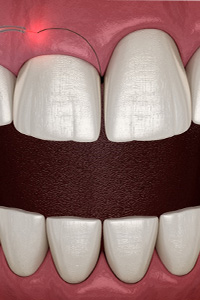 You'll be happy to know that gum recontouring comes with several incredible benefits. Aside from improving the appearance of your smile, this treatment can change your life in ways you may not have considered. Some of these advantages include:
Lower overall risk of a bacterial infection
Reduced swelling and bleeding
Less chance of tooth decay
Decreased tooth sensitivity
Boost of self-confidence
An aesthetically enhanced grin
What Is the Treatment Process?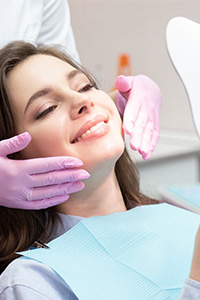 At Texas Dental Surgery for Periodontal Services, we use a soft tissue laser for gum recontouring. This modern approach allows us to shape the outer edge of the gums quickly and painlessly. If you're concerned about the treatment being painful, we can use a local anesthetic to ensure you're completely comfortable.
Before starting the procedure, we'll give you time to relax and administer sedation if desired. Then, we'll clean your teeth and gums and dry them to remove excess moisture. Our team will carefully use a laser handpiece to eliminate or reshape the tissue in question, revealing your new gumline. The heat from the laser cauterizes your gums to minimize bleeding.
Once your gumline is even, we'll rinse and clean your smile so you can enjoy your final results. The entire process can typically be completed in just one visit! At the end of your appointment, our team will discuss recovery instructions and write a prescription for antibiotics if there are concerns about an infection. Your mouth may feel sore and swollen for a while, but the discomfort should go away after a few days.